Koukoudis and Pascali winners of the 2023 ILCA Youth Easter Meeting
From the 5th to the 8th of April 2023, 348 athletes were lined up on the starting line of the Ilca Youth Easter Meeting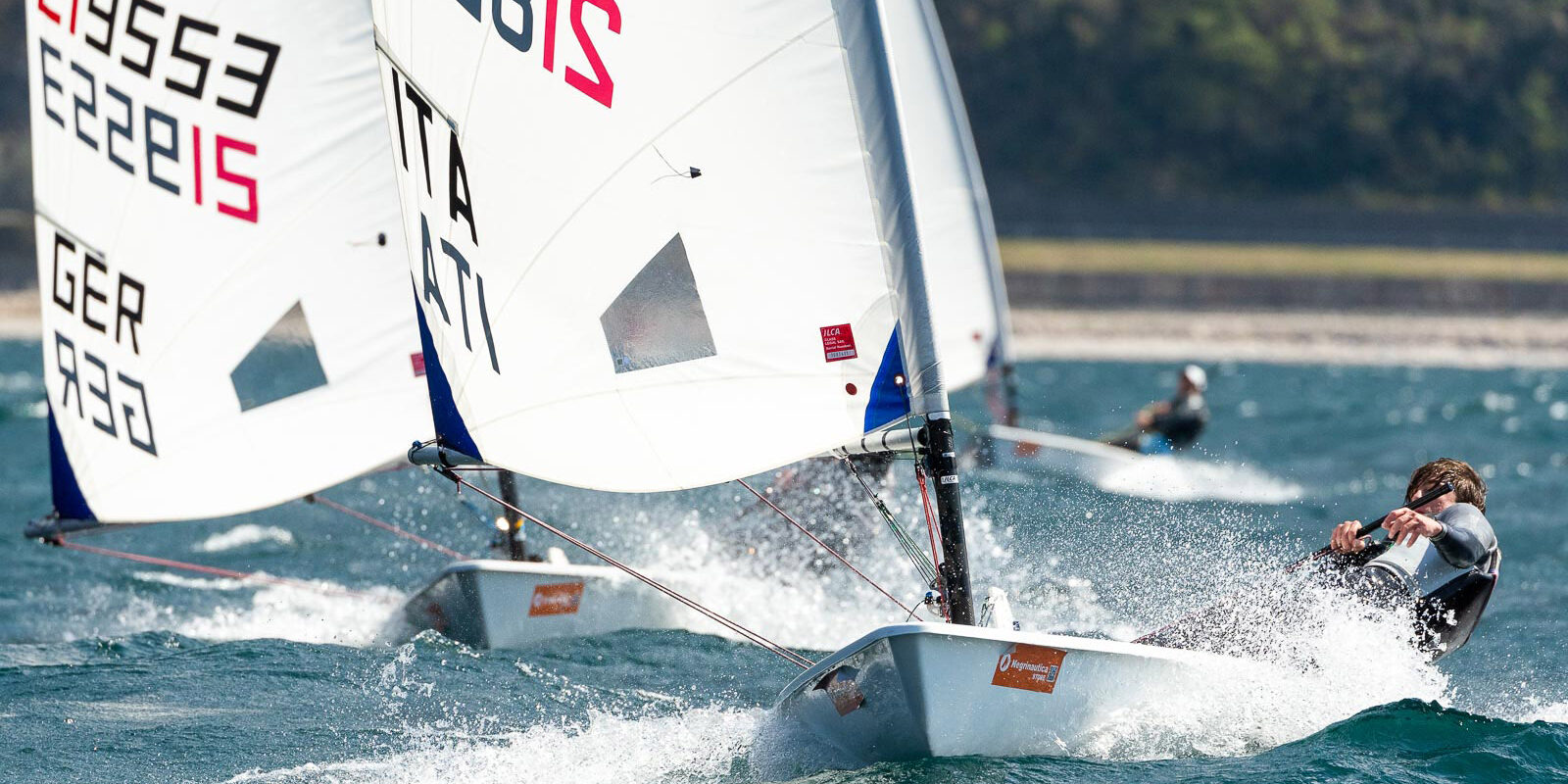 After the great success of the 2022 Edition, the traditional Easter regatta dedicated to the Ilca 4 and Ilca 6 classes returns to Malcesine. From the 5th to the 8th of April 2023, 348 athletes were lined up on the starting line of the Ilca Youth Easter Meeting. Vassilis Koukoudis and Antonio Pascali are the winners respectively in the ILCA 4 and ILCA 6 class.
For this 10th edition, every record of participants was broken, with 28 countries from all over the world represented. The most represented countries were Denmark, Germany, the Scandinavian countries and of course Italy. In addition to several non-European athletes from Australia, the United States, Brazil and the United Arab Emirates.
The entire program was completed in the 4 days of regatta with 10 races to crown the Ilca youth champion of the Easter Meeting!
THE RACE
The Ora wind was the undisputed protagonist of all 4 days of the event, blowing constantly every afternoon with an average of 10-15 knots.
The Italian sailor Antonio Pascali (Fraglia Vela Riva), took the first position of the ILCA 6 fleet from the first day and never left it again, with an excellent consistency in the qualifying races and a 5th and 4th place on the last day. Erik Norlen (Royal Swedish Yacht Club) won the hard-fought fight for second place. Massimiliano Antoniazzi (Yacht Club Adriaco) closes the podium. Isabella Mendoza Cabezas (Key Biscayne Yacht Club) 1st female U19.
The last day of races was concluded in the best possible way by making a regular start at 12 o'clock with 2 races for the fleets divided into gold and silver, which crowned the Greek sailor Vassilis Koukoudis (ANOG) overall winner in the ILCA 4 fleet. Second step of the podium for the Ukrainian Dmytro Karabadzhak tying the same points with the 3rd classified Lorenzo Ghirotti (Fraglia Vela Riva). Nika Fornazar from Croatia took the 1st place for women U16.
ILCA YOUTH EASTER MEETING 2023 WINNERS
ILCA 4 Overall
🥇GRE 212526 VASSILIS KOUKOUDIS – ANOG
🥈UKR 222365 DMYTRO KARABADZHAK – SVOC/ TEAM UKRAIN
🥉ITA 214150 LORENZO GHIROTTI – FRAGLIA VELA RIVA
🥇 Boys Under 16 ITA 214150 LORENZO GHIROTTI – FRAGLIA VELA RIVA
🥇Women Under 16 CRO 211544 NIKA FORNAZAR – SAILING CLUB HORIZONT POREC
ILCA 6 Overall
🥇ITA 219260ANTONIO PASCALI – FRAGLIA VELA RIVA
🥈SWE 221474 ERIK NORLEN – ROYAL SWEDISH YACHT CLUB
🥉 ITA 222367 MASSIMILIANO ANTONIAZZI – YACHT CLUB ADRIACO
🥇 Boys Under 17 ITA 219783: DAVIDE CHEMASI – FRAGLIA VELA MALCESINE
🥇 Boys Under 19 ITA 219260 ANTONIO PASCALI – FRAGLIA VELA RIVA
🥇Women Under 17 LTU 184808 EMA KUODYTE – ZIEMYS
🥇Women Under 19 USA 217340 ISABELLA MENDOZA CABEZAS – KEY BISCAYNE YACHT CLUB
🥇 Women Under 21 POL 217368: LAURA SZULC – CHKZ CHOJNICE