Luca Centazzo and Ole Schweckendiek are the winners of the 9th edition of the 2022 Ilca Youth Easter Meeting
After two years of forced stop due to the pandemic emergency, the traditional Easter regatta dedicated to the Ilca class (LASER) returns to Fraglia Vela Malcesine
From 13 to 16 April 2022, over 300 athletes lined up on the starting line of the Ilca Youth Easter Meeting.
Ole Schweckendiek and Luca Centazzo won in the ILCA 6 and ILCA 4 classes respectively.
For this 9th edition of the regatta every record of participants has been exceeded, with represented by 28 Countries from all over the world. The most represented Countries are Germany, Norway, Finland and of course Italy. In addition to numerous non-European athletes from the United States, Brazil, United Arab Emirates, Thailand and Bermuda.
Also present in Malcesine 9 Ukrainian athletes, hosted by Fraglia Vela Malcesine.
Full program completed in the 4 days of regatta with 10 races, to crown the Ilca youth Champion of the Easter Meeting!
The Ora was the undisputed protagonist of the first 3 days of the race, blowing steady every afternoon with an average of 10-12 knots.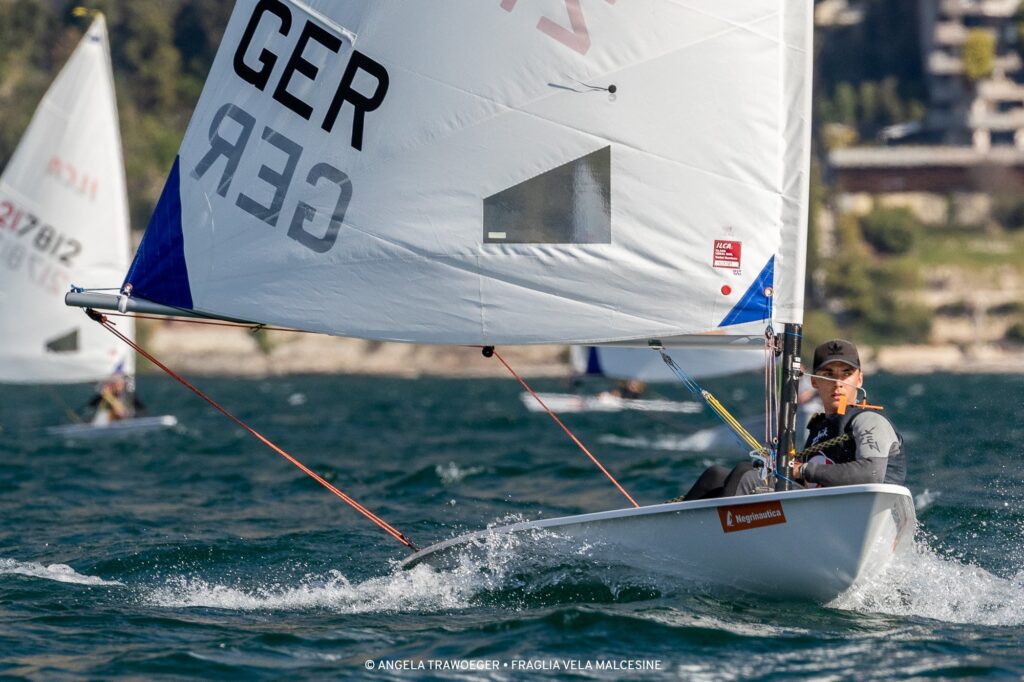 The german Ole Schweckendiek (Kieler Yacht-Club), conquers from the first day the first position of the ILCA 6 fleet to never leave it again, with an excellent constancy and double victory in the GOLD fleet. Mattia Cesana (Fraglia Vela Riva) wins the hard-fought fight for second place. The podium is closed by the home athlete Lorenzo Predari (Fraglia Vela Malcesine).
Emma Mattivi (Fraglia Vela Riva) first female.
To conclude the regatta on Saturday morning 2 races with Peler, which crown Luca Centazzo (Sirena Club Nautico Triestino) overall winner in the ILCA 4 fleet. Second step of the podium for the finnish Henrik Puolakka and Othman Alhammadi from the United Arab Emirates. Ritika Dangi from India instead conquers the first place in women.