The 49er Olympic champion Fletcher-Scott wins Foiling Week 2022 – Moth Class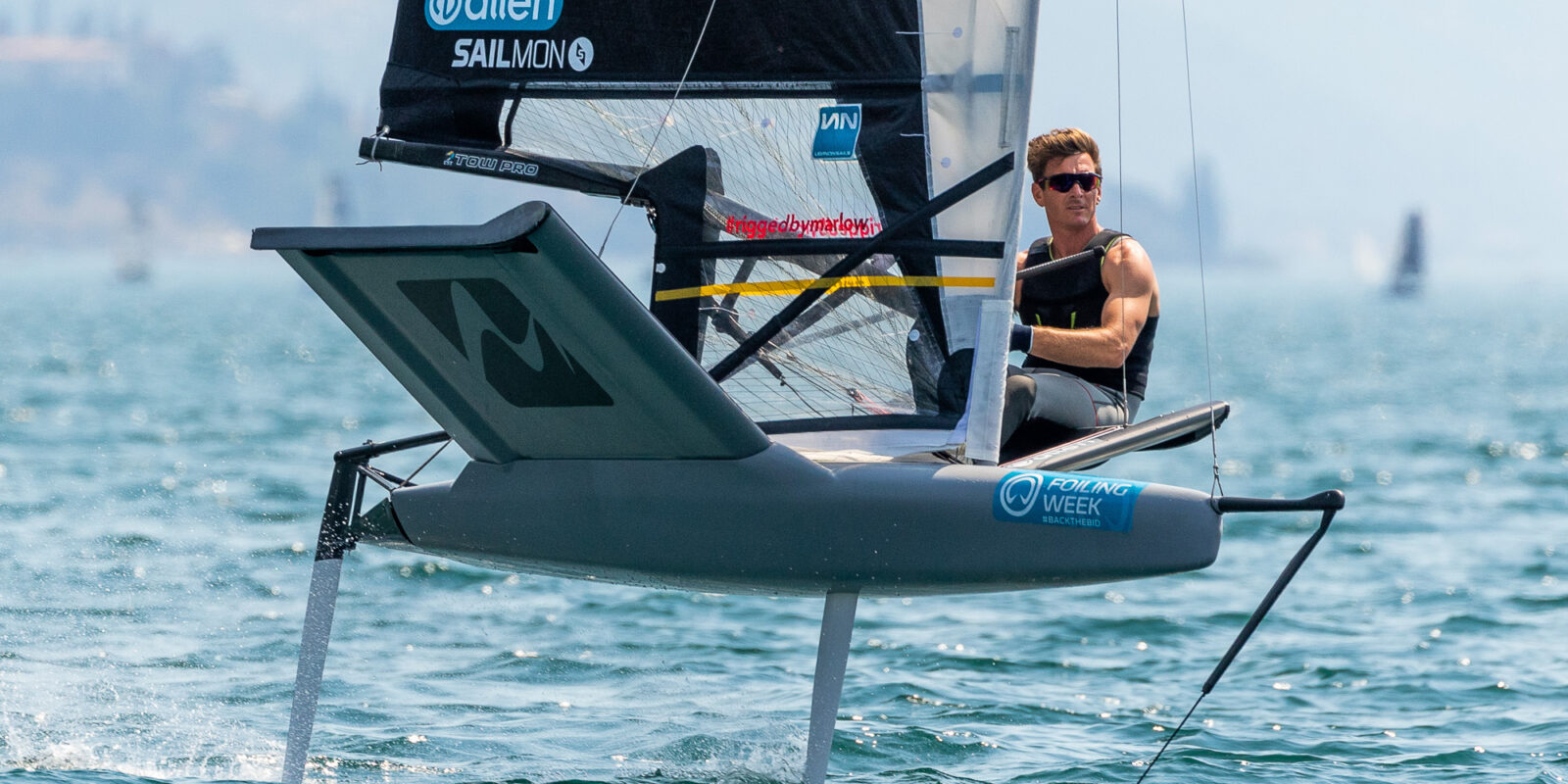 For the 9th consecutive year Foiling Week is back in Malcesine!
Five classes involved in the regattas, over 160 sailors from all over the world, dozens of champions, forums, and hundreds of tests for all fans! Also present at Fraglia Vela Malcesine 5 different universities from all over the world, to participate in the Sumoth competition.
Four intense days of racing with the best sailors in the world, for the MOTH, WASZP, ETF26, ONEFLY and WINGFOIL classes. Parade of Olympic medals, with Anne-Marie Rindom, Dylan Fletcher-Scott, Simon Hiscocks, Paul Goodison and Ruggero Tita.
Moth, Waszp and Onefly
Protagonist since the first edition of Foiling Week and after the 2021 World Championship, the Moth class returns to Fraglia Vela Malcesine, with its best representatives. Dylan Fletcher-Scott (Weymouth & Portland National Sailing Academy), who never left the lead after day 1, becomes the winner of the Moth class, resisting the comeback of the Norwegian Nicolai Jacobsen (Royal Hong Kong Yacht Club), who stops so in second place. Third place for the very young Mattias Coutts (Manly Sailing Club) born in 2005 and son of art. First female the German Lisa Schweigert (Segler-Verein-Wörthsee). Top 10 also for the home athlete Matteo Pilati (Kevin Rio, Fraglia Vela Malcesine, closes instead in 35th place).
First warm-up regatta also for the Waszp, expected in Malcesine for the International Waszp Games 2022 from 12th to 16th July. Italian victory for Ettore Botticini (Circolo Nautico e della Vela Argentario), second place for the Irish Charles Cullen (Royal St. George Yacht Club), and Enzio Savoini (Yacht Club Imperia) closing the podium. Mathilde Robertstad (Tønsberg Seilforening) first female.
A nice comeback to Malcesine also for the Onefly class, with a large French fleet, led by the winner of the event Léo Maurin (BBN), with 4 partial victories.
ETF26
Also the ETF26 calss return to Malcesine, with a more competitive fleet than ever, with 8 catamarans on the starting line, including the Live Ocean Racing Team (Olivia Mackay, Helena Sanderson and Serena Woodall) and Lady Team Pro (Mathilde Geron, Sophie) Fauget and Lola Billy). After 16 completed races, Team Pro prevailed (Mourniac Jean Christophe, Amiot Benjamin and Durand Pierre Yves), making a comeback on Live Ocean Racing Team. Third place for the French Youth Foiling Team (Charles Dorange, Pierre Boulbin and Jean-Baptiste Ducamin).
Wingfoil
Second year here at Foiling Week for the Wingfoil class, for the Euro Cup 2022. Full program for the socalled flying boards, with 18 races completed in 3 days. Francesco Capuzzo (REEF) undisputed winner of the series, ahead of Alessandro Josè Tomasi (Fraglia Vela Riva) and Luca Franchi (Italian Yacht Club). First female Federica Ponteggi (Anzio Lavinio Sailing Club).