Edoardo Guarnati and Luca Pacchiotti win the Techno293 Italian Title!
In UNDER 15 division and CH4 division Coppa Presidente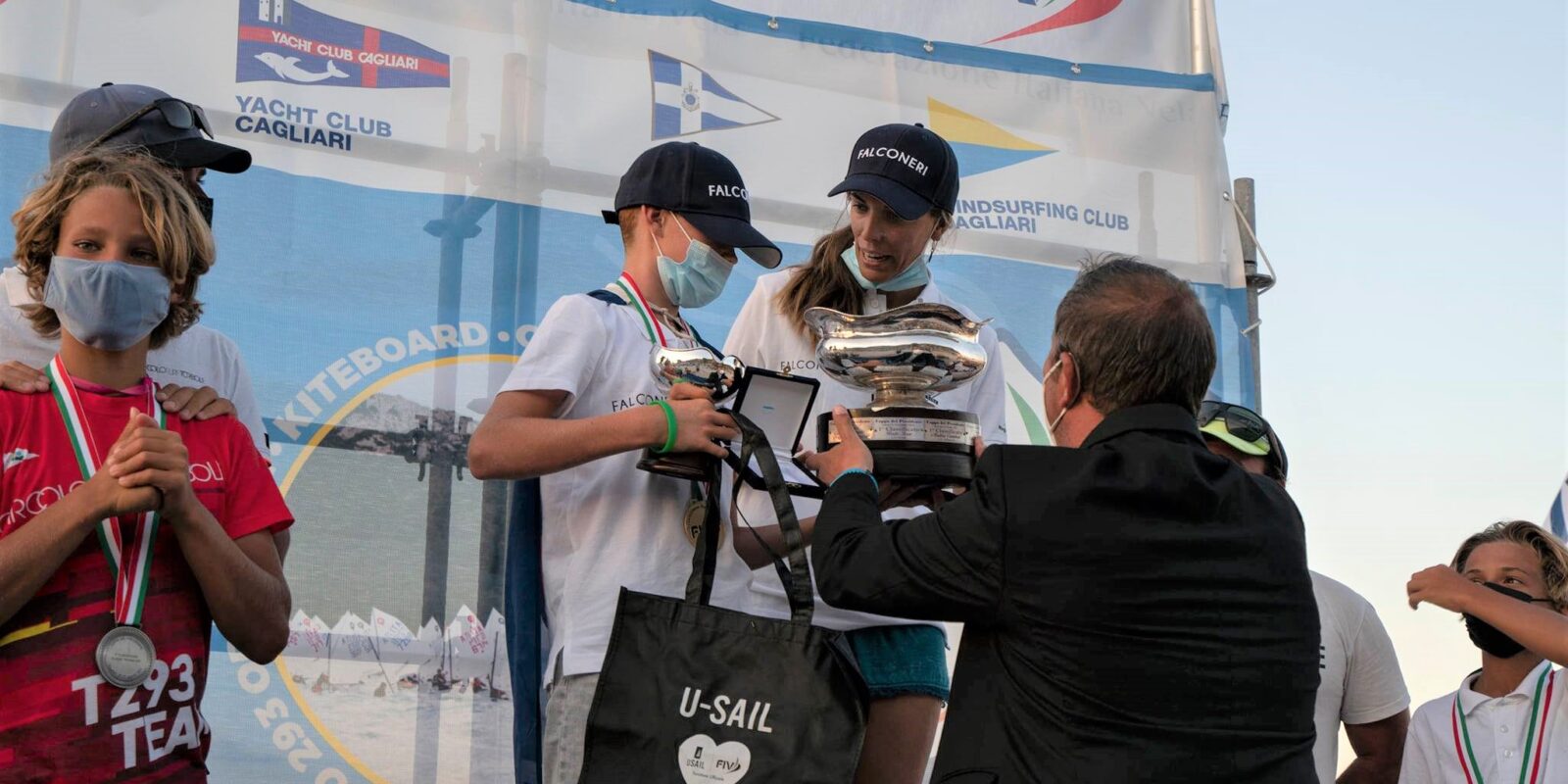 In the marvellous Race area of the Poetto Gulf in Cagliari from 29th to 31st August 2021 the Italian Youth Championships of the 36th Coppa Primavela, 19th Coppa del Presidente and 17th Coppa Cadetti took place.
After last year victory in Coppa Primavela, Luca Pacchiotti brings home the Coppa Presidente Techno 293 CH4 division (y.o.b. 2010).
The athlete trained by Giorgia Brizio wins among other 40 entries and reachs the victory with 15 points ahead of the second place.
Giordano Rigotti gets a good 5th place in the same division, Malik Gueye ends at 20th place and Davide Marchei at 25th place.
In Coppa Primavela CH3 (y.o.b. 2011-2012) a 9th place by Tommaso Loncrini!
10 races concluded with wind up to 9/10 knots for all the fleets!
The Optimist team, accompanied by coach Nicole Galazzini, is composed of Pietro Gainelli and Nicolò Chemasi.
9 races concluded for the Coppa Presidente in which Pietro reach the la 16th position instead in Coppa Primavela Nicolò reach the 33rd position!
YOUTH INDIVIDUAL CLASSES ITALIAN CHAMPIONSHIPS
Just immediately after Coppa Primavela, on the same Race area, the Youth Individual classes Italian Championships have been organized.
From 2nd to 5th September, there been some conditions very different from those expected.
Sea with a very formed wave and wind of lower intensity than expected with remarkable wind jumps accompanied the almost 600 sailors in classes Laser, Optimist and Techno293.
The FVM Coaches Nicole, Giorgia and Valerio to guide the important and challenging away regatta.
Techno 293
In U13 division after 10 races Luca Pacchiotti takes the 3rd position behind Pierluigi Caproni (CV Windsurfing Club Cagliari) and Mathias Bortolotti (Circolo Surf Torbole).
Vittoria Brighenti rises on the podium as the 3rd female and 16th overall!
Alex Roncagalli finishes the championship in 34th place.
In U15 division Edoardo Guarnati commands the entire fleet and deserves the title of Italian Champion U15!
The teammates Lorenzo Maroadi (9th), Elia Rossi (12th), Nicole Prandini (29th), Nicol Calovi (42nd) and Maddalena Lombardi (44th).
The U17 athletes sail in 9 races; Caterina Montini ends in 18th position and Igor Bresaola at 28th.
Michele Marchei in Plus fleet after 9 races ends 11th!
Optimist
With 11 races, the Optimist in the Final Gold are Mattia Benamati who reaches 36th place and Sofia Bommartini who wins the 48th place.
8 races instead for the Silver fleet with Cecilia De Noe in 18th and Bianca Marchesini in 47th.
ILCA/Laser
The Laser team (ILCA 4 and ILCA 6) faces the Championship with concentration and determination by obtaining excellent placements.
Francesco Novelli with the 9th place guides the teammates, followed by Federico Uricchio (13th), Lorenzo Predari (17th), Maximiliano Testa (25th), Tommaso Boccuni (32nd).
Davide Chemasi (ILCA 4) wins an excellent 10th position followed by Jan Meletti and Chiara Pallua.